Are you new to freelancing and looking for the best freelance websites for beginners? You're in luck!
Engaging in freelancing can yield significant rewards, both in terms of financial gain and creative fulfillment, particularly when you have the opportunity to earn income in dollars while residing in a country with a lower income level.
With so many different freelance platforms for you to find freelance work and tons of freelance jobs to choose from, all offering their own benefits, it can become difficult to decide which freelance platform works best for your needs.
In this post, we discuss some of the best freelance websites to get started in 2023 that cater specifically to beginners — helping them launch successful freelance businesses or score a freelance job with great support systems and beneficial resources.
So if you're ready to take your talents online and make a name for yourself as a budding freelancer, read on and find the best freelance websites!
Are All Freelancing Platforms Different?
When it comes to finding the best freelance platform for your unique set of skills, it's important that you don't settle for just one. Take some time to research the different options available online and decide which freelance website offers the services that you can provide with your current skill set. Evaluate which freelance marketplace is easier to navigate, has a secure payment system, and provides you with job offers related to what you specialize in.
With a careful analysis, you will soon discover the ideal fit for your needs and be able to start showcasing your work on a website tailored to your particular skill set with potential clients.
Here are a few options we picked up specifically to help you choose your new career as a freelancer!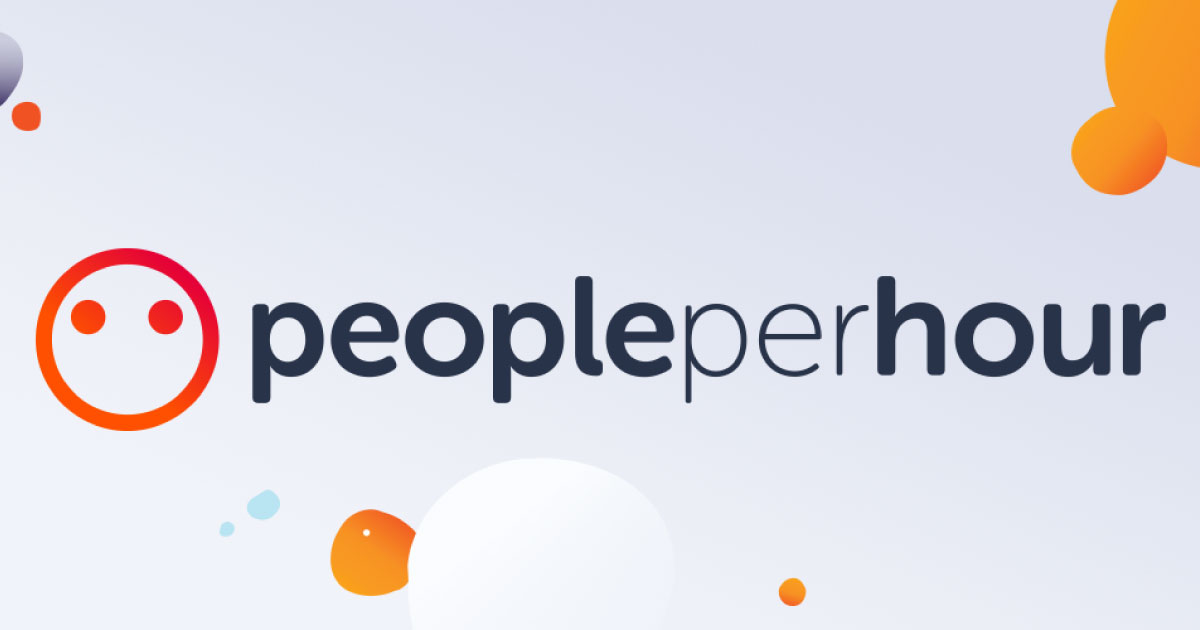 People Per Hour:
People Per Hour is one the best freelance websites for beginners, as it offers its users multiple services that make it easier to break into the freelance industry. It also offers its own tailored job search engine which helps with finding the right project at the right price and makes sure that beginners can get started off on the right foot before they dive in and start taking on larger gigs.
In short, People Per Hour is an ideal choice for new freelancers, providing useful tools and insights that help set them up for success.
USP of People Per Hour:
People Per Hour is a great website for freelancers and startups alike to get their work seen by the right people and make sure they are getting paid on time. The process of securing payment is designed to protect the seller-buyers or businesses from making down payments in advance, and once those payments have been processed, the People Per Hour team verifies the buyer. This helps you build relationships with trustworthy buyers, as well as find clients within your own locale.
Moreover, thanks to its secure payment system, comprehensive checks in place, and great customer support, you never have to worry about being taken advantage of- you'll always get what you're owed, on the day it's due!
---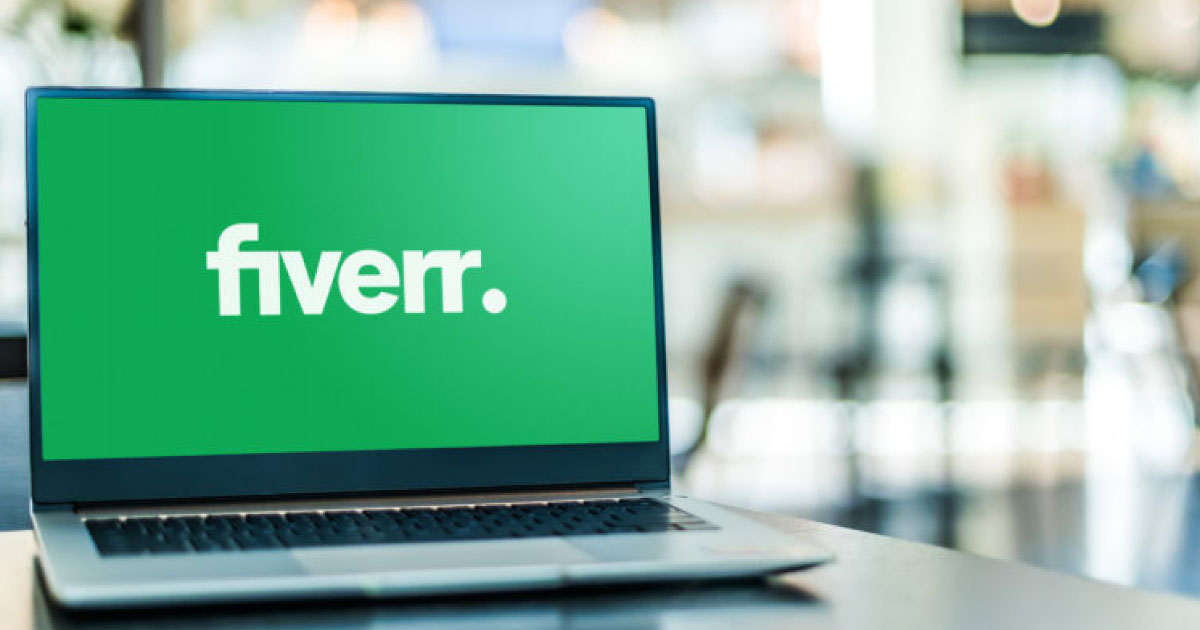 Fiverr:
A list of the best freelance websites for beginners can be incomplete without Fiverr. Fiverr has revolutionized the way freelancing works — for both sellers and buyers! For freelancers, it's never been easier to advertise their services; all they have to do is create a "gig" that displays all their specialties.
This can include anything from writing and web development to social media marketing and audio editing. Since each gig contains the cost of the services being offered, it couldn't be simpler for buyers or businesses wanting to employ these professionals. All they need to do is take their pick, pay in advance (Fiverr handles this part), and then wait for the task to be completed before the payment gets transferred into the freelancer's account.
It's no surprise why Fiverr has become so well-known since its inception in 2010 and has attracted millions of freelance writers and freelance designers as well as software developers and other experts, due to being a simple job marketplace for fixed price gigs while providing excellent customer support. This can easily be considered the best among most freelance websites.
USP of Fiverr:
With Fiverr, you can quickly market your services with no tech-savvy skills needed. Unlike most freelance sites, it's a simple job board for freelance workers to list their gigs among millions of other gigs like logo design and copywriting, and various opportunities for project managers, Amazon experts, virtual assistants, etc. Not to mention, there are plenty of data security measures in place so both buyers and sellers alike know their information is safe.
So go ahead, grab onto the excitement that comes with this hassle-free platform with excellent customer support, and start selling! If you're looking to make an extra side income with work done quickly and easily, turn towards Fiverr first and find freelance gigs for yourself!
---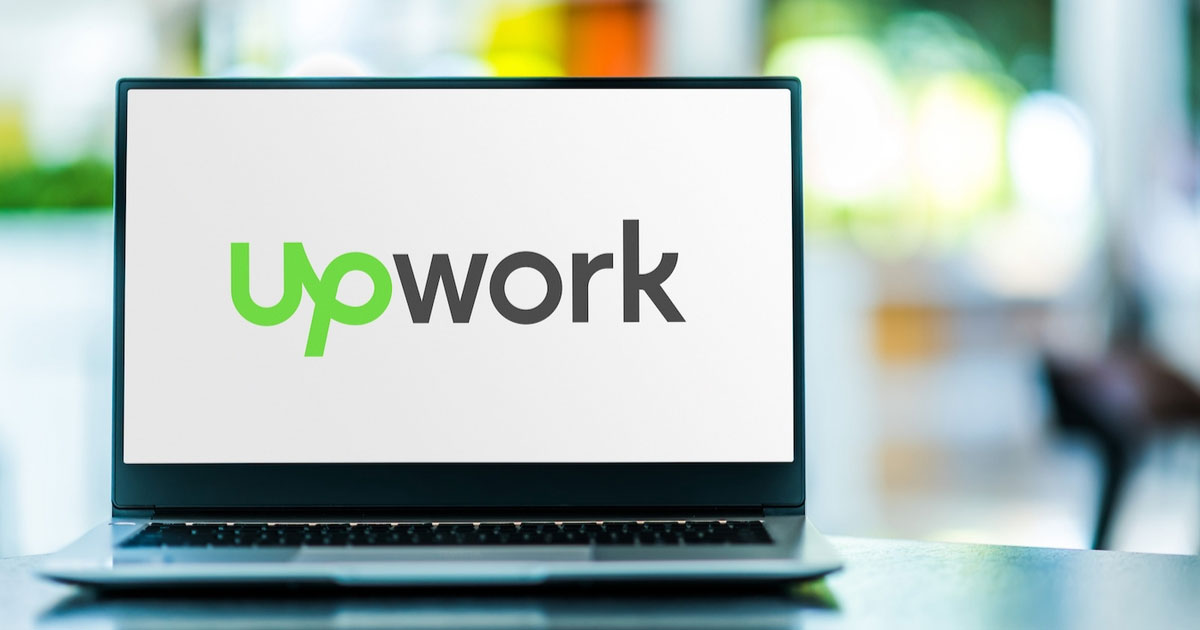 Upwork:
Upwork is another one of the best freelance websites for beginner freelancers to kick off their careers. What makes Upwork stand apart from the rest of the sites is that it offers peer-to-peer communication in real-time, allowing you as a freelancer to get your questions answered quickly and effectively.
In addition, Upwork's proprietary algorithms Facet and Kaleido help match freelancers with just the right projects that suit their talents and experience. Moreover, everything on Upwork is optimized for desktop, mobile, and tablet — making onboarding projects a breeze, no matter where a freelancer might be working or traveling.
Finally, with its world-class security procedures designed specifically to protect both employer and freelance identities, you can trust Upwork will look after you from start to finish.
USP of Upwork:
Upwork offers an intuitive in-app messaging tool to help both employers and freelancers communicate without hassle. With this secure platform, clients have an easy way to provide feedback and make sure freelancers understand their vision, while also getting timely work done.
Moreover, Upwork makes making payments straightforward for clients with its wide range of options — including credit cards, bank transfers, and other payment gateways — so that businesses can release payments easily and on time.
This focus on efficient communication and ease of payment makes Upwork a great choice for businesses large or small. They also have the largest number of jobs, the most number of categories, one of the easiest hiring processes, and the best customer support which makes it easier for clients to hire freelancers.
For freelancers, you become part of the best freelance website which makes your way easier to land a freelance job with a lower platform fee of only 10%. It has both hourly jobs and fixed-price jobs which makes it the best freelance website for beginners. 
They have also introduced "Contract-to-hire" which gives contracts with potential job positions so you can be one of the company's permanent social media managers or product managers or software developers or land a long-term contract for freelance writing, best to try it out today!
---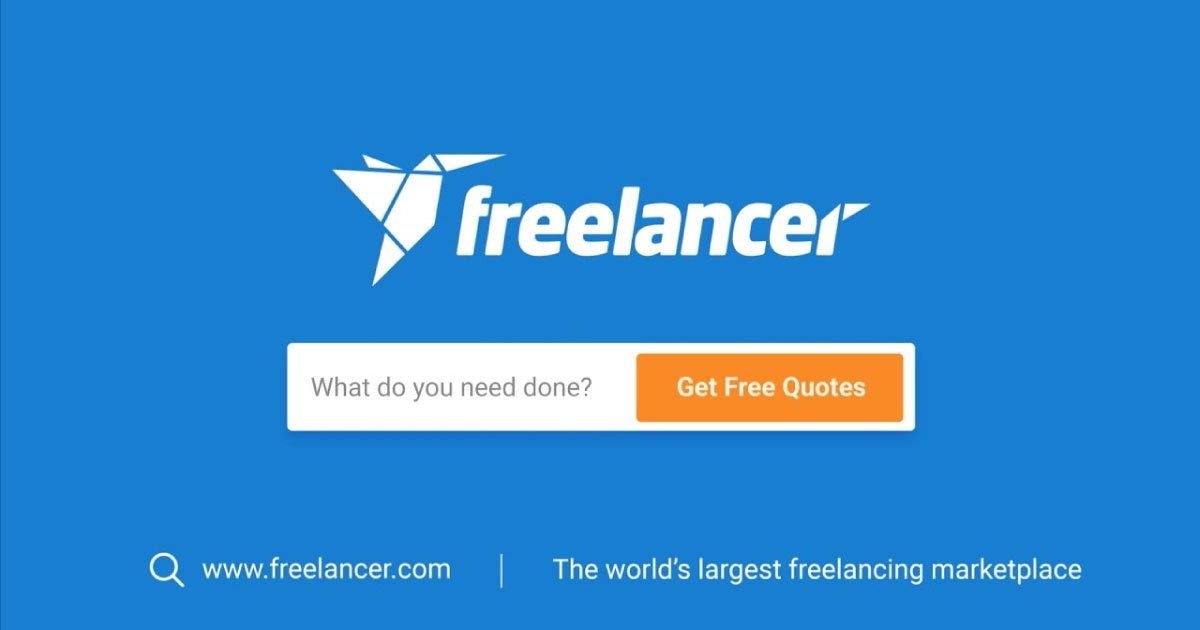 Freelancer:
Freelancer is a great site for freelancers just starting out. There are plenty of opportunities available to those seeking projects in their field. Freelancer also offers tutorials and tips from industry veterans that can help kickstart your freelancing career.
What makes this site particularly attractive for beginners is the ease of joining — you don't need to write an application or make gigs or provide any legal documents; Neither do you have to spend anything to join nor labor through endless forms and surveys. Instead, you have direct access to thousands of employers looking for freelancers right away! All in all, Freelancer is a great platform to start your freelancer journey.
USP of Freelancer:
The Freelancer makes it easiest to join and start your journey and lets you stay connected with your clients and track the time you spend on various tasks. Whether it's sharing data, tracking progress, or completing tasks, everything is streamlined for effortless work preparation and organization. Plus, you'll also have access to a safe, secure payment system that allows for timely payments once a project is completed.
With Freelancer, you get to showcase your talent and skills without having to worry about where to look for job opportunities; employers can find qualified freelancers within seconds using this platform. That way, the perfect employer-employee relationship can be formed quickly and efficiently potentially culminating in a successful long-term collaboration.
Recently, Freelancer has been losing its popularity due to fake job posts, a drawback of its easy joining policy, so we can't consider it among the best freelance websites for the time being, even though it's a hot platform for freelance writing, designing, and other simpler skills.
---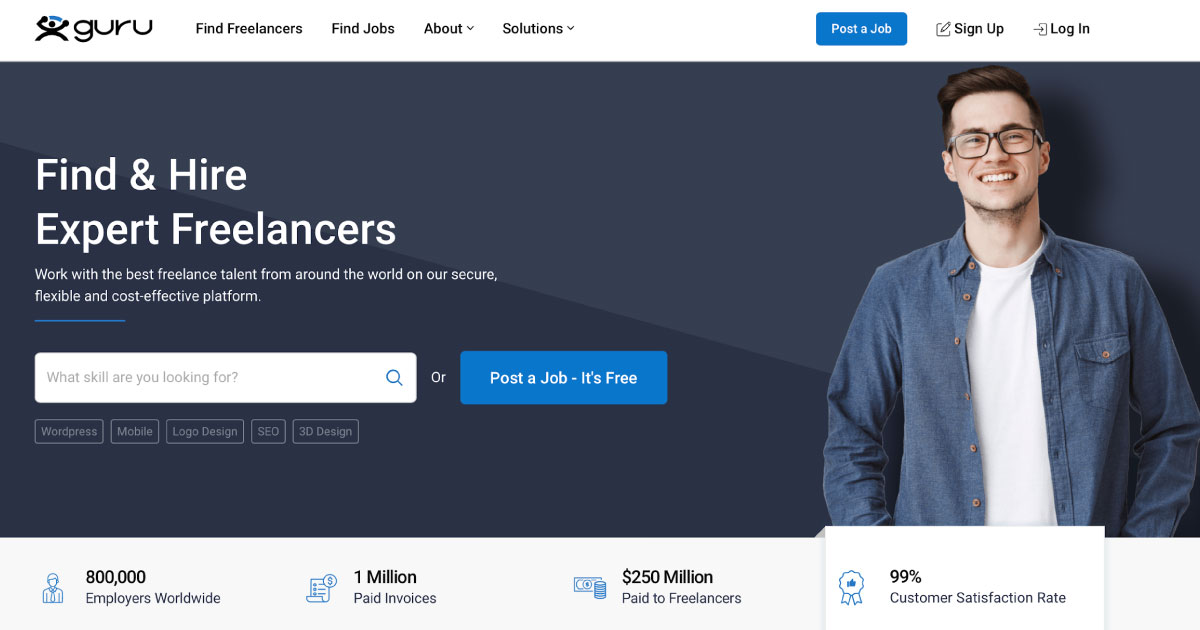 Guru:
Starting out as a freelancer can feel a little overwhelming, but Guru is here to make it easier! Guru offers access to thousands of jobs from companies all over the world who are looking for an experienced freelancer like you.
With multiple different ways to filter and search for projects, you can easily find the perfect job that matches your skillset. You'll always be up-to-date with the latest job postings since Guru updates its job listing daily. Plus, there are plenty of helpful professionals available in their online community if you ever get stuck or need advice.
When compared to other sites, Guru stands out as the best, providing valuable resources, excellent customer support, competitive rates for employers, and low service fees for freelancers.
Whether you have an interest in web design, you just know basic data entry or want to get hired for logo design or you are looking jobs for copywriting jobs or even technical jobs such as for software engineers, or for those from finance looking for account management jobs, Guru is the perfect place to start your journey as a freelancer.
---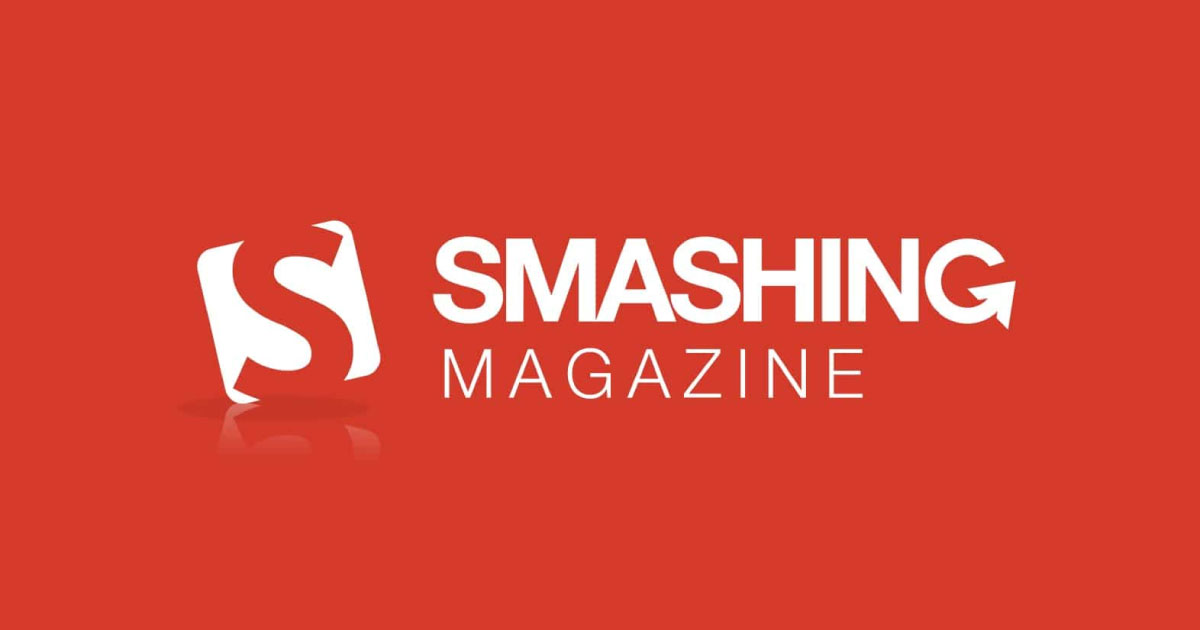 Smashing Magazine:
For creative visionaries and freelancers looking to start forging their own career paths, "Smashing Magazine" has it all. From free templates and tutorials to helpful strategies for success and feature articles written by experienced professionals, the site provides an outstanding platform for web developers and web designers.
What makes this site unique is that it offers much more than just helpful advice: there is a vast network of resources that can assist freelancers in finding jobs, staying ahead of trends, creating a professional portfolio, and even marketing themselves effectively.
Moreover, users benefit from firsthand testimonials from those who have taken their careers to the next level with the help of Smashing Magazine. All these features make it stand out from other freelancer websites and make Smashing Magazine the go-to destination for passionate individuals ready to make an impact on the world.
---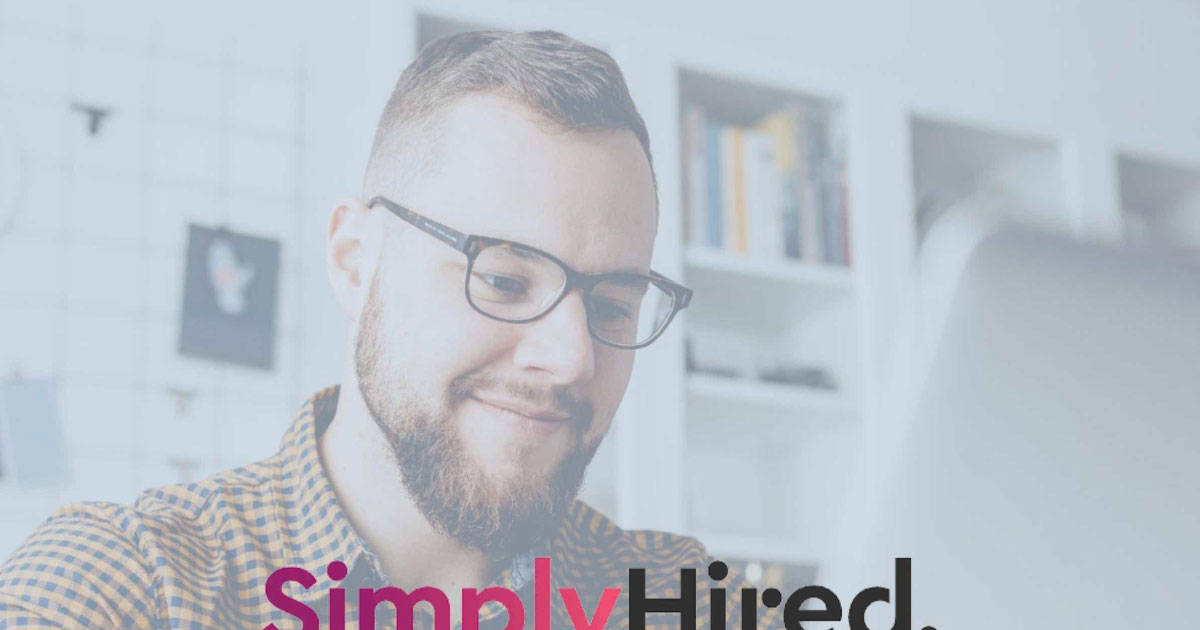 Simply Hired:
Simply Hired is the best site for beginner freelancers because it provides a comprehensive collection of job postings from numerous other sites and freelance platforms, such as Freelancer, Upwork, and PeoplePerHour. The website also offers users tools to help them find the best job for their qualifications and career goals.
Additionally, beginner freelancers can use the site's salary estimator to get an average salary rate for the jobs they are considering. They can also take advantage of personalized job alerts, which notify them when a new freelance job or new positions become available that match their criteria.
All of these features make Simply Hired the top go-to place for beginning freelancers who are looking to make a start with their career as a freelance writer, an SEO expert, a web developer, or a graphic designer or want to offer services as a digital marketing expert or want to be their goto virtual assistant, they have various job opportunities for freelance professionals.
---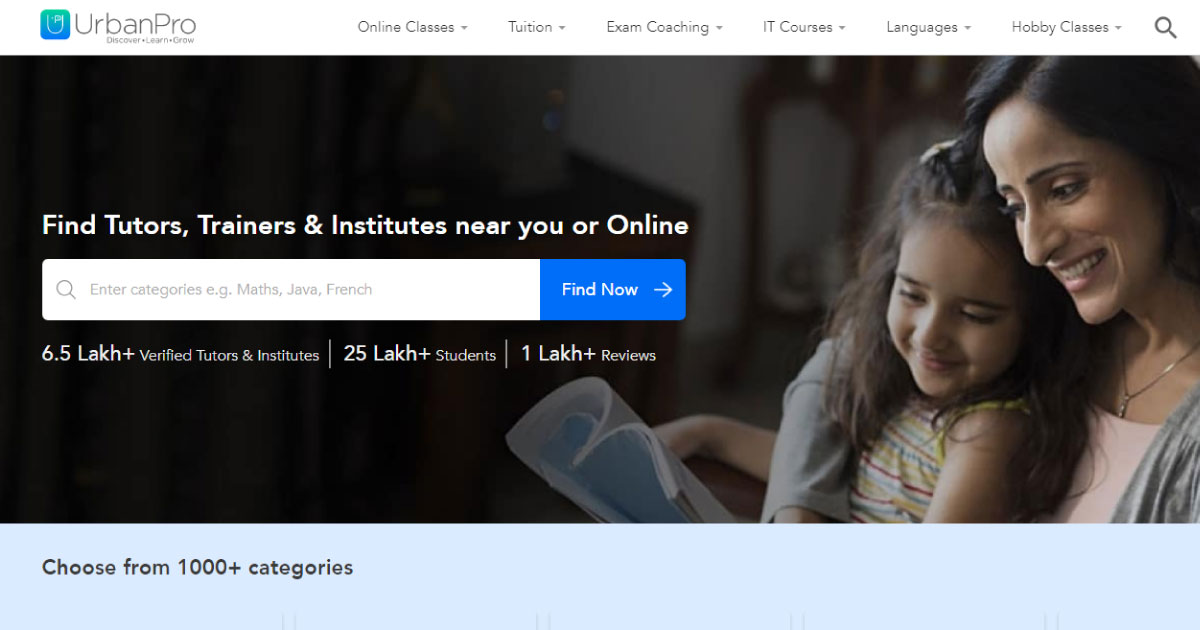 Urban Pro:
Urban Pro is one of the best freelance websites for those looking to draw income from teaching and tutoring. Not only does it draw in clients from all over India, but it has a huge range of services ranging from IT & Software to Lifestyle & Home services, meaning no matter what your experience or expertise, you'll be able to find something you can do.
Additionally, at Urban Pro, you have the security of knowing you will always be paid on time and securely as the site has registration with PayUMoney. This gives you confidence that your money is safe and secure for every job completed too.
As if that isn't enough, valuable customer support, and access to unlimited free resources such as market research tools and video tutorials will help ensure you're up to date on the latest industry trends so that you can keep climbing up the ladder of success as a freelancer!
---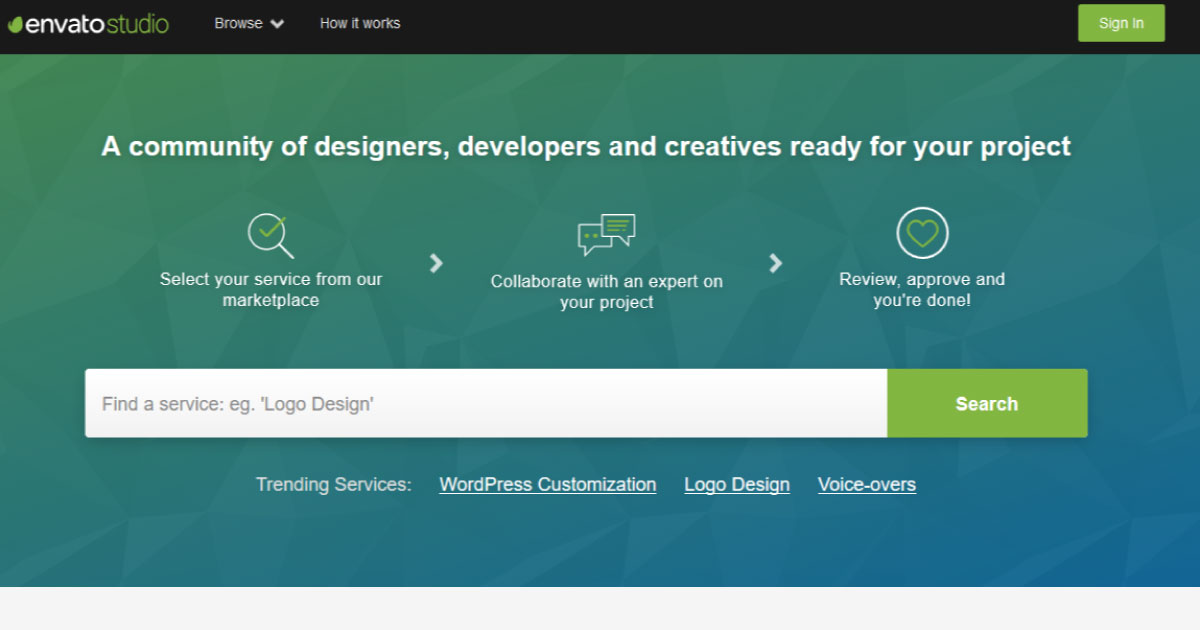 Envato Studio:
Envato Studio is undoubtedly the best site for professional graphic designers who are new to the freelancing world. What makes Envato Studio so special is the wide array of freelance talent available, from experienced professionals to high-end freelancers especially in the field of graphic design and web design. Plus, the site provides estimated project costs so that you can better budget your workloads and get paid faster.
Additionally, Envato's intuitive search tools help you quickly find exactly what you're looking for among all the options—giving you more time to focus on successfully completing each project.
With its sensible pricing structure and reliable support system, Envato Studio is certainly worth checking out as aspiring freelancers or business owners looking to easily kick-start their careers!
---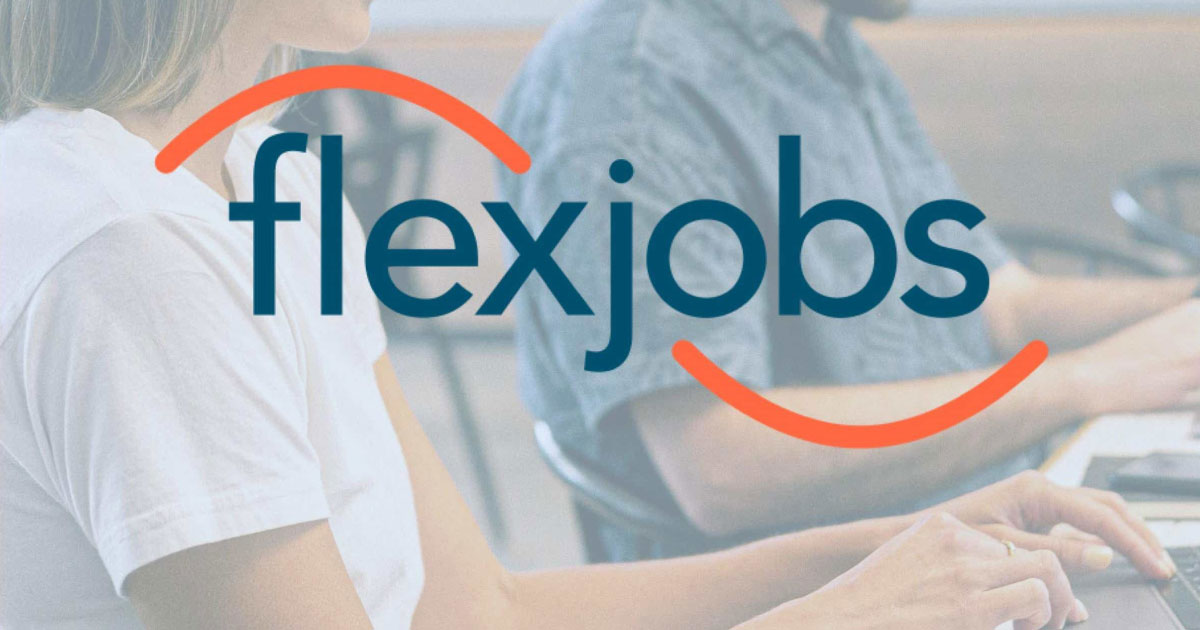 Flex Jobs:
For anyone looking to break into the world of remote jobs, "FlexJobs" is an invaluable asset as it is more than just a normal freelance website. The array of freelance work available on its job board, far surpasses other sites, with offerings such as legitimate part-time and remote jobs, as well as freelance opportunities, that are thorough in their selection process to ensure the most high-quality jobs. Additionally, they have a variety of career advice articles that help new freelancers find positions that best fit their skillset.
Furthermore, their weekly newsletters contain job-hunting tips, inspiring stories from fellow members, and more content related to launching and managing a successful freelancing career.
Trust "Flex Jobs" to provide users with the best routes for beginning their lives as aspiring independent contractors and job seekers to hunt potential clients in various job categories from data entry to digital marketing catering to all talents looking for freelance writing jobs or freelance design jobs, or looking to work in project management or software development.
Our Opinion
In short, for beginners looking for the best freelance websites with the highest number of relevant job opportunities, Fiverr or Upwork are the best freelancing websites, depending on if you like the idea of freelance gigs or bidding on jobs. 

For those of you looking for the least competitive freelancing websites, People Per Hour and Guru are the best freelancing websites. 

For those looking for the best job boards for all creative professionals and graphic designers, your top freelance website would indeed be Evanto Studio. 

If you are among those job seekers, looking to find jobs that are remote, it's best to go for Flex jobs instead of any other freelance marketplace.
Other best freelance websites which may have the right freelance work for you:
Toptal – Best freelance site for experts
99designs — freelance marketplace for graphic design contests
LinkedIn ProFinder — for LinkedIn job postings
Dribbble – for Freelance designers with a strong portfolio
DESIGNHILL — freelance marketplace for graphic design contests
Writers Work – freelance marketplace for content writing jobs
UpStack – freelance marketplace for web design jobs
Tutors – freelance marketplace for online tutoring freelance jobs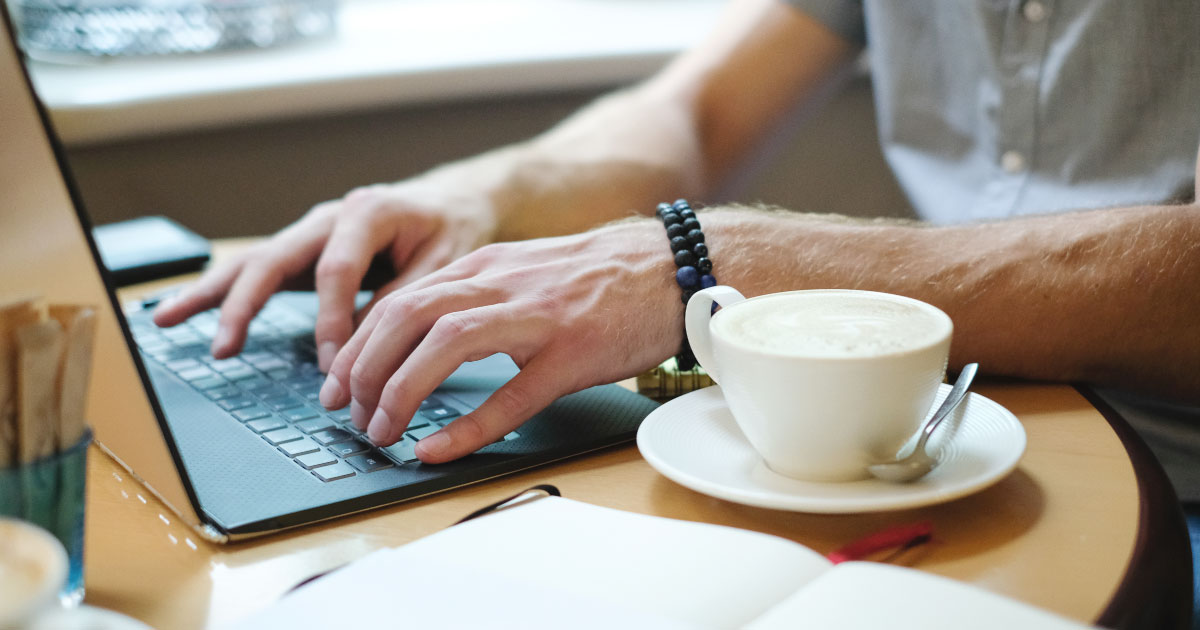 Whew, there you have it! The 10 best freelancing sites for beginners in 2023.
Regardless of what industry you're looking to get into or what kind of work you want to do, there's a site on this list that can help get your freelance career off the ground. Do some research, read through each site's terms and conditions, and sign up for the one that seems like the best fit for you among all the freelancing sites.
All of them help to find freelance jobs for beginners in various fields and are solid jumping-off points for your freelance career.
Just remember to create a strong profile, put your best foot forward in your applications, and be patient as you build up a client base. With hard work and dedication, you can find long-term success on any of these platforms; even if you don't land a gig right away, treat every application as practice.
The more options you try, the better your odds will be of getting your dream project. Good luck!